YOGA FOR YOUR FEET
Give your feet some love, they work so hard for us and I'm sure they will feel great after this short practice. Let me know if you find this helpful.
YOGA FOR SORE NECKS
Ease out those tight neck and shoulder muscles with this short sequence that you can do sitting in a chair or on your yoga mat. Let me know how you go!
PYJAMA YOGA 1
This is the first of 2 gentle yoga practices with Sarasvati that you can use to ease into your day – you can do this before getting out of bed!
PYJAMA YOGA 2
This is the second pyjama yoga practice where you can continue for a few more minutes of gentle yoga practice on your mat. Not intended to replace your regular longer class, but a great way to ease out the creaks and be ready your day.
YOGA FOR DIGESTION
This is a short and gentle yoga sequence, mainly lying down, that will encourage good circulation to your digestive system and provide an internal massage. This really can make a difference, try it for yourself on a regular basis (such as every day for a week) and let us know if it is useful for you.
CHAIR YOGA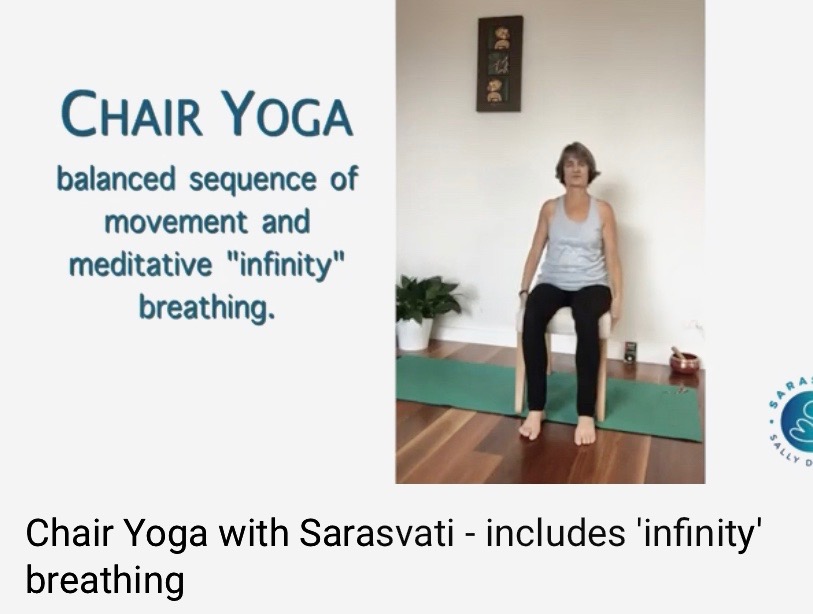 Click the link above for a chair yoga class that has a balanced range of movement and a meditative breathing practice I call infinity breathing.
Enjoy!