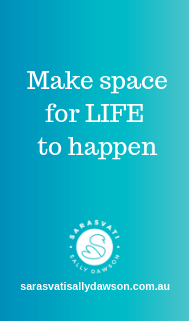 Do you fill all your life with busyness?
Perhaps like many of us you have grown up learning that being busy is a good thing and somehow equates to success? Productivity rules, right?
The trouble is that if we don't leave some space, we might find that life misses us.
A regular practice of Meditation gives you space. It makes your life seem more spacious because you develop a habit of observing your thoughts. You get perspective too.
Among other things, being still allows for:
• creativity
• insight
• problem solving
• feeling blissful
• feeling in the flow
• rest
• gratitude
Allowing some unscheduled time also allows for random unfoldings and encounters. Not to mention not feeling stressed or the pressure of being scheduled down to the last minute.
Maybe it takes some undoing of old conditioning. I'm not suggesting turning into a sloth (they do get maligned don't they?) Simply allowing space means there is ease and perspective that is hard to experience when every moment is busy. There is the opportunity to notice the small things and be grateful too.
I know for myself, when I have made space in my life (once was when I left a job, another was when I cut back teaching so many yoga classes) I got BIG inspirations about what was next. So please don't underestimate the importance of making space.
I'd love to know, have you got any big messages or inspirations when you have made a bit more space in your life?
You can purchase your own set of these contemplation cards from the store HERE and postage is free in Australia. The picture on the front of each card is by Gayle Stone Art. I'd love your feedback and look out for my blog about the next card soon.