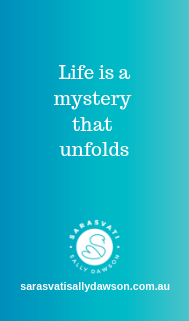 We don't really know what is coming next, what ups and downs and twists and turns lie ahead.
That doesn't mean we should just lie down and give up! It means we can stay open to the mystery! It means we don't have to always know. We don't have to always try to control (we can't anyway).
There are lots of amazing things to notice in life if we pay attention, here are just a few:
The buzzing of bees and the incredibly industrious work that they do
The human body and its amazing capacity, even despite how we treat it sometimes
The practice of meditation that can give us a taste of wonderful bliss, as well as perspective on life
The way plants can pop up in a crack in the concrete
The way clouds make patterns and float across the sky
The way our hands are so dexterous
The way our dogs greet us when we get home
The kindness of a stranger
What is it like living in the mystery?
Life is going to unfold whatever we think, isn't it? Maybe if we have an attitude of being open and okay rather than feeling as though we always have to know and control there is a different feel? Maybe there is a feeling of being more connected, and also more accepting?
Lets live the mystery as it unfolds!
Much more meaning than is teased out here can be taken from these cards, this is just a start. I'd love your feedback and look out for my blog about the next card soon.
You can purchase your own set of these contemplation cards from the store HERE and also my book Yoga off the mat, freedom in everyday life HERE and postage is free in Australia.
The gorgeous original picture on the front of each card is by Gayle Stone Art.