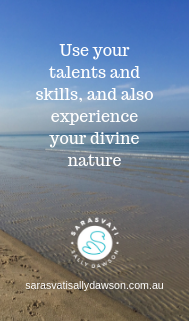 We all have skills and talents. Things we like to do and things we are good at.
Perhaps you know what your skills and talents are. Or perhaps you think yours are nothing special, but if you consider your experiences leading to this point, then yes they really do make a unique set!
Maybe also there is something that you want to do, something that has been nudging at you to come to life.
Are you talented at or curious about music, art, accounting, organizing, motivating, singing, creating, engineering, story-telling, IT, yoga teaching, meditation teaching, sharing mindfulness, teaching stress-management, gardening or whatever combination of these and other things you bring to your life?
For me what this card is saying is that while we do the work that we bring to the world, we can also experience our state of inner freedom, our divine nature.
These are not mutually exclusive. We are not divine only every now and then, or only while we are sitting in meditation. There is nothing in our world and our life that is not divine, that is not connected and a part of the whole.
So perhaps we don't have to run away from our life to experience the bliss of being, or to experience our divinity, our inner freedom?
Whether we are zen on the mat or caught up in an argument, whether we are out in nature or doing our work, this is life and all of life is divine.
Does this mean that life always feels blissful?
Sometimes it takes being fully immersed in our creativity to find our bliss. We find ourselves in the flow and the work pours out of us. But I think we can also experience inner freedom and bliss in doing the dishes. Not if we are grumpy about doing the dishes, and probably not if we are rushing and trying to be super efficient either! But if we simply go about our day, we can do it with presence and awareness, rather than being on autopilot without such awareness. We can practice moment-to-moment awareness, and moment-to-moment inner freedom and divinity.
What have you been doing when you were just going about life doing your thing with your unique set of skills and talents, and have felt the experience of divinity, your divine nature? I'd really love to know if inner freedom is a more or less constant experience for you, whatever you are doing, or even if you think that is possible.
Much more meaning than is teased out here can be taken from these cards, this is just a starting point.
You can purchase your own set of these 'Yoga off the mat, contemplations to enrich your practice' cards from the store HERE and postage is free in Australia. They make a perfect gift too.
The gorgeous original picture on the front of each card is by Gayle Stone Art.
*If you are interested in the possibility of experiencing more inner freedom in your life, then my online course Fluff-free freedom might be just perfect for you. Find out more HERE